In July 2016, the foundation stone was laid for the 2-year project to provide psychotherapeutic support for traumatised women and training for local trauma therapists in the Kivu region. Since then more than 170 local trauma counsellors have been trained, some of them even as supervisors and coordinators. At the end of the first two years, a further financing phase of 12 months was approved.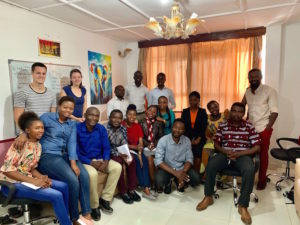 The almost three-year project duration was a very intensive time, which not only had to deal with the difficulties of a large project, but also with the partly uncertain security situation in the region, which did not always make it possible to visit all intervention zones regularly. In addition, there were the presidential elections at the end of 2018, which repeatedly led to unrest in the region in the run-up to the elections.
Today, the project is on solid footing. The project leader and vivo member, Dr. Katy Robjant, was able to hand over the project management at the end of 2018 to Amani Chibashimba, who worked in the project from day one and aslo joined vivo recently. Regular supervision and project visits for the team on site are another important part of the continuation of the project. In addition, planning for the future takes place. In consultation talks with the Fonds Social de la République Democratique de Congo and the World Bank Group, another multi-year project phase is being discussed.