Narrative Exposure Therapy (NET)
Narrative Exposure Therapy (NET) is a evidence-based short-term treatment for traumatised survivors of organised, sexual or domestic violence as well as war or natural disasters. The treatment of children (KIDNET) follows the same principles and procedures as the treatment of adults, however expanded with child-appropriate elements.
The NET builds on neuropsychological models of trauma and memory and the procedure is based on Testimony Therapy (as developed by Lira and Weinstein in Chile) in combination with cognitive behavioural exposure techniques. Witnesses to severe human rights violations are invited to testify about their traumatic experiences. In cooperation with the therapist they can restore their autobiographic memories about those experiences. In this way fragmentary memories are transformed into a coherent narrative structure: a testimony. This practice fosters the processing of painful emotions and the construction of clear contingencies of dangerous and safe conditions, generally leading to significant emotional recovery. If the survivor agrees, the documents (testimonies) that result from this therapy can be used for prosecution of human rights violations or awareness raising purposes.
For more information on the NET procedure you can click here or follow this link.
NET manual
For full information on the NET procedure, please consult the NET manual:
Schauer, M., Neuner, F., Elbert T. (2011). Narrative Exposure Therapy: A short Term Treatment For Traumatic Stress Disorders (2nd edition). Cambridge, MA: Hogrefe Publishing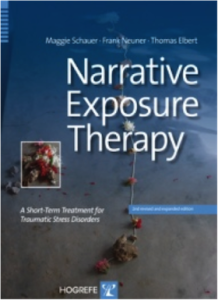 If you wish to order the NET manual, please click here.
The manual has already been translated into the following languages: Dutch, French, Italian, Japanese, Korean, Farsi, and Slovak.
Please follow this link for a detailed list of publications on NET so far.
Projekte
vivo hilft
Projects
vivo helps