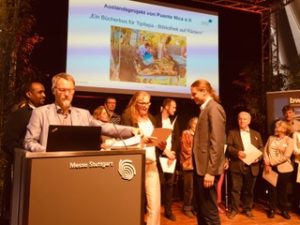 The vivo members Anselm Crombach and Anja Zeller received a public award for their commitment in Burundi by the Foundation for Development Cooperation Baden-Württemberg (SEZ) at this year's "Fair Handeln" fair on Saturday 27.04.2019 in Stuttgart. For four years now, projects of vivo international e.V. in Burundi have been supported by the SEZ. The aim of these projects has been to ensure basic psychological care for disadvantaged population groups.
Together with the partner organisation Psychologues sans Frontières Burundi, the psychotraumatology centre Kira Agahinda was established in Bujumbura, Burundi. This centre offers psychological support to poor people affected by civil wars and ongoing political conflicts. Local professionals offer reintegration programmes for children living on the streets or on rubbish tips. The focus is on the treatment of trauma disorders as well as advice on family conflict resolution.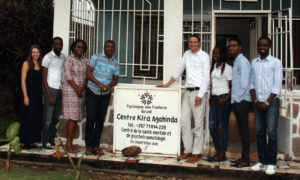 The continuous support of the Baden-Württemberg Development Cooperation Foundation makes it possible to treat those affected and enable them to reintegrate into society. In addition, a sustainable structure will be created in order to preserve the services of the Center for Psychotraumatology for the affected population groups in the long term.