A successful project ends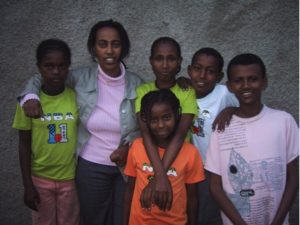 After a project in 2006, vivo founded a small orphanage in Ethiopia. The children have now become independent young adults and vivo was able to successfully complete the project in 2020.
In spring 2006, the two vivo members Dr Martina Ruf Leuschner and Dr Nina Winkler were active in the town of Awassa/Ethiopia as part of a research project. More than 100 children were interviewed who had lost their parents due to HIV/AIDS and had become orphans. The aim of the stay was to establish counselling structures for trauma and grief and to offer local counsellors, grandparents and foster families workshops on positive parenting in order to raise awareness of child abuse and maltreatment among the population. Among the 100 children, vivo staff became aware of eight severely abused children who were in foster care. The idea of establishing an orphanage was born and put into practice.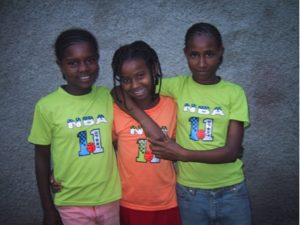 The time spent in the vivo-run orphanage, where eight children lived with a "Mummy" for many years, made them become a family and gave them a home.
The children of that time are now young adults who are going their own way, but continue to be very connected to each other.
– M.M. has a university degree, works for Ethiopoien Airlines and is married.
– G.L. is studying public health at university.
– S.E. studied biology and works for a local NGO.
– S.G. has completed vocational school for catering and food preparation and will start his own business.
– M.L. studied civil engineering. She had a job with a company, unfortunately without a job at the moment due to the Covid situation.
– M.K. studied psychology, works as a social worker and is a single mother.
– M.M. studied education and social work and works as a teacher.
– B.M. will graduate from school in 2021 and would like to start a small business to earn a living.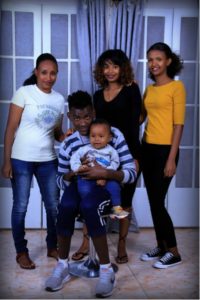 Of course, this project would not have been possible without the local structures and support. Kidist Belanyeh, a young Ethiopian psychologist, was there from day one and was very committed to the needs of the orphans. Her tireless commitment and care gave the children a lot of support.
S.E. describes how important Kidist is to her:
And the one thing that shouldn't be forgotten is about Kidist. She is a real hero for me sometimes I wonder how she gets out of this community. She was there for us every time when we needed her and whatever it is. She is our GOLDEN bridge. She had something which makes us calm down and touch our hearts. I remember she spent most time counselling and guiding us. I do remember my darkest days in the Jimma campus but she made me pass it through and made me strong. so she deserves to have credit. She is our mom. I want to be as smart as she is.
A big thank you goes to the donors who have contributed financially every month for 14 years, making this a success story.
Even though this project is officially closed, we will continue to stay in touch with the young people thanks to social media. Kidist has also pledged their continued support should there be any problems with the individuals. We wish them the very best for their future!