For over a year vivo international has been collaborating with a centre for youth and adolescents in Goma in the eastern Democratic Republic of the Congo. The centre offers adolescents who are affected by the war social support and a vocational training in order to give them a new perspective on their future. The adolescents receive a one-year training, support from social workers and help with job-seeking. The centre supports many former child soldiers. The former child soldiers were minors when they joined an armed group; today they are adolescents and young adults who are trying to find their way into civil life. However, this journey is a rocky road, many of them have difficulties integrating. Many of them suffer from traumatic experiences and can be irritable and violent. Hence, they can only partially benefit from the reintegration programme and some do not complete it successfully.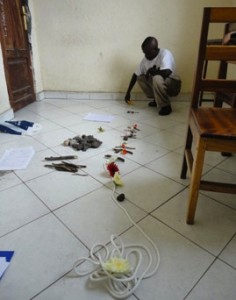 To help the former child soldiers to break the vicious circle of war and violence, vivo international developed a new psychological intervention by further developing Narrative Exposure Therapy (NET). In addition to the traumatic experiences, the perpetrated aggressive acts are also addressed, to help the former child soldiers to find closure with their past as violent soldiers. Additionally, they learn how they can support each other in their new life as civilians in group sessions.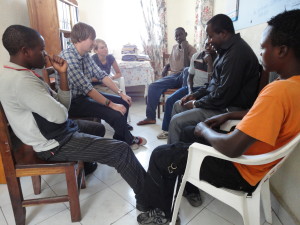 Five experts of vivo international implemented this treatment for the first time in a pilot study in autumn 2011. Seventeen former child soldiers were treated and were very thankful for the support. It was the first time that someone had taken the time to talk with them about their experiences. They talked very openly about the violent acts they had committed and it was possible to work therapeutically through these acts with them. The therapy was integrated into the existing reintegration programme at the centre and all staff members supported the implementation of the therapy.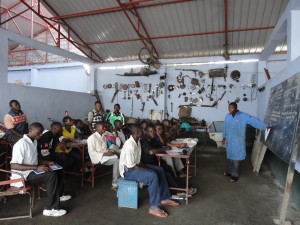 Six months after the end of therapy, the former child soldiers reported that they suffered less traumatic stress and found more closure with their military past, an important step into civil life. The first implementation of the new treatment was successful!
In the future, vivo international plans to train staff members of reintegration centres in these methods, to enable them to help the former child soldiers and combatants on their own. Violence against civilians in the DR Congo will only stop if the psychological problems of the soldiers and child soldiers are also taken into account. It is not sufficient for the soldiers to give up their oldroles as soldiers, the mind of the soldiers and child soldiers must also be demobilized.