Since early 2002 vivo has been partnering with GTZ, the Ministry of Education, the Education Council North-East and Shantiham Association for Health & Counselling to build-up a cascade model of psycho-social care for affected school children in the North-Eastern provinces of Sri Lanka. In the framework of this model, more than 1500 teachers have been trained as qualified Counsellors and Befrienders to provide services to children and their families in need.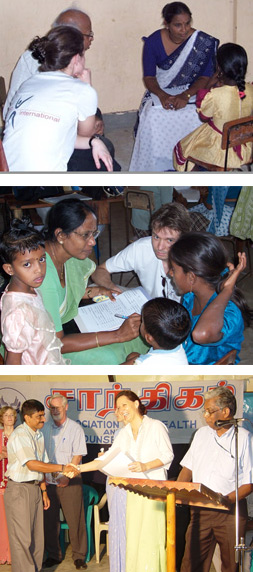 With the help of local organizations, such as Shantiham and the University of Jaffna, a supervision and referral system was build-up alongside, which allowed coordination of services to such a degree that after the Tsunami had hit Sri Lankan coastal areas in December 2004, almost one third of all trained teachers could be readily deployed to support relief work in the most severely affected educational zones under the guidance of the swiftly established Disaster Mental Health Task Force.
Various epidemiological studies carried out by vivo and the team of local counselors, have shown dramatically increased prevalence rates of psychological disorders in Tamil children with up to every third child diagnosed with Posttraumatic Stress Disorder (link to related publication). Furthermore, the findings showed that detrimental effects of the long lasting violence are visible at the individual level (psychological and physical impairment), at the family level (loss of close relatives, violence at home), as well as on the community level (poverty, lack of schooling facilities, alcohol use) [link to related publication] .
About 150 former counselors have been trained in Narrative Exposure Therapy as well as a local therapy approach of meditation and relaxation techniques. Two randomized controlled treatment trials have proven that the local counselors are able to carry out psychological interventions that lead to a significant reduction of trauma symptoms and functional impairment in the affected children.