vivo has been engaged with Rwandan survivors of genocide, still suffering from trauma-related consequences, since 2006. An important component was the training of a group of Rwandan psychologists by vivo experts in Narrative Exposure Therapy (NET) and Interpersonal Therapy (IPT), during the autumn of 2007. Eighty-six genocide victims were randomly assigned into a treatment and a waiting list control group. Under expert supervision, the Rwandan therapists conducted 6 sessions of NET and 2 sessions of IPT and social interventions, each taking between 90 and 150 minutes. All 37 treatments were completed with great success and the participants improved considerably, observed in the reduction of symptoms of trauma, grief, and depression (effect size for the reduction of trauma symptoms: d= 0.66 at 3 month post-test and d= 1.48 at 1 year follow-up).
The word spread in Butare, friends and neighbours started approaching the vivo therapists for psychological support. vivo understood that this large-scale psychological rehabilitation need could only be answered if evidence for effective peer-to-peer knowledge dissemination could be established. A new project phase was born.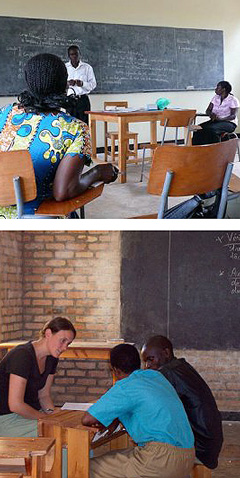 Pictures:
top:Trainer Charles Ingabire and Therese Uwitonze at a theoretical lecture in the second generation training of Rwandan psychologists
below:vivo member and project leader Nadja Jacob during an interview with an orphan in Butare 
In May 2008, a second generation of Rwandan psychologists were trained and supervised by skilled first batch local peer therapists offering treatment to the waiting list participants. Six therapists worked during the months of June and July 2008 under the supervision of Providence Akabeza and Agnes Nyirabizimana, the Rwandan experts. Also the second therapist generation completed all 31 treatments with the orphans and widows. Interviews for evaluation were conducted at 3-, 6-, 12-months after the completion of NET/IPT. The benefit of therapy was assessed by the Rwandan interviewer group, as well as vivo experts.
The ambitious plan succeeded, and the second generation NET/IPT therapists were as successful as the first generation (effect size for the reduction of trauma symptoms at 3 months = 1.43). Treatment gains for trauma, grief, depression, and suicidality were in both groups considerable and were maintained or even increased over time. Also physical health and functioning in daily life was improved; further most participants reported an subjective improvement of mental health resulting from the eight sessions of psychotherapy.
Genocide survivors who did not improve in a significant way, were offered more sessions of NET or counselling by the Rwandan therapists, tailored to their needs. In August 2009 the project has it's official end with the final evaluation.