Sosame is a psychiatric hospital situated in Bukavu, in the South-Kivu province in the eastern Democratic Republic of the Congo. The hospital is managed by the "Brothers of Charity" ("Frères de la Charité") and treats people with severe mental illnesses from the whole province. The people who are seeking help here have hallucinations, are depressed, drug addicted or traumatised.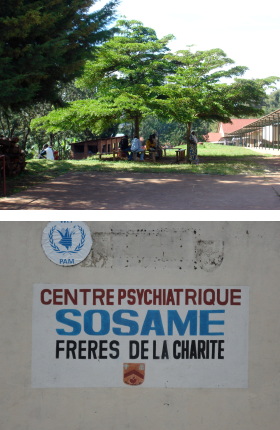 vivo international supports the psychiatric hospital since January 2012. Two staff members, who were trained in Narrative Exposure Therapy (NET) by vivo international, are treating women and girls traumatised by the war in the whole province. Some of the women and girls come to Bukavu for treatment. The two staff members of the psychiatric hospital also provide an outreach service, travelling to the most affected areas in order to treat the victims of sexual violence. As a result of the current riots in eastern DR Congo, some traumatised women and girls are isolated in the remote areas and security risks to come to Bukavu for treatment are high. The two NET-therapists collaborate with local health centres in order to treat the affected women and girls immediately.
With the support of vivo international the psychiatric hospital was able to treat more than 45 traumatised women and girls in 2012. The women and girls are severely affected by their traumatic memories and often not able to care for their families anymore. Through the treatment with NET their psychological well-being is improved and they are able to support their families again. In this way it is not only women and girls who benefit from the initiative of vivo international in South-Kivu, but also the families, whose days in this war-torn region are a constant battle for survival.