In May 2010 vivo was invited by the United Nations Development Program (UNDP) and the Norwegian Defence University College (NODEFIC) to share its expertise to plan a training for gender-sensitive Demobilization, Disarmament and Reintegration Programmes (DDR).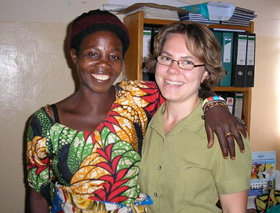 During a one-week planning workshop that took place in Switzerland vivo discussed with representatives from UNDP, UNFPA, UNIFEM, the UN Interagency Standing Committee as well as from the International Research Centre for Research on Women how the needs of girls and boys, women and men can be recognized and attended to in all phases of disarmament, demobilization and reintegration. From these lively discussions an outline and methodology for the training course was developed.
DDR programs aim to include former combatants and persons, who have been associated with armed groups, such as children and partners of former combatants as well as adults and children, who have been abducted by armed groups. Many armed groups, such as the Lord Resistance Army, operating in Uganda, the Sudan and the Democratic Republic of the Congo, regularly abduct adults and children to force them to carry heavy loads, serve as cooks and sex slaves and to train them to be child soldiers. Combat, abuse and devastating living conditions often leave deep psychological scares in all former members of armed groups, whether they had formerly belonged to these groups by choice or not.
Drawing on vivo's longstanding experience with former child soldiers and victim's of organized violence, vivo member Anna Maedl advocated that DDR programmes must include screening mechanisms to identify, those beneficiaries, which suffer not only psychological distress, but full-blow psychological disorders, and offer targeted psychological treatment. The workshop participants were deeply impressed by vivo's current work and committed to include psycho-social care in the planned DDR training course. The course will be held in Oslo in November 2010 and invite DDR specialists from the UN, INGOs, as governmental and regional bodies.